Medical
Toronto Dominatrix Mistress Mindy - Medical Play Expert
I have an extensive background in medicine, making the medical play niche a personal favourite of mine. Whether you're experienced or simply curious, you're in fabulous hands with me. Sounding, enemas, knife play, catheters, prostatic massage… I can make your wildest fantasies reality in a safe, sexy session. I have all the equipment necessary to transform you into my eager patient, and all of the sexy attire to keep you aroused and aching for my attention.
Have you read my blog? I have some fabulous posts about medical sessions!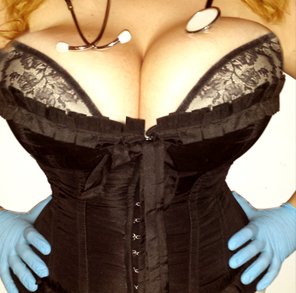 General Points about Medical Sessions
Time Required
For Medical Sessions, I suggest at least 1 1/2 hours. Dr. Mindy needs plenty of time to talk to you about your medical past, assess your needs, examine you, put you through the appropriate tests... and then of course, I need to treat you! This is an exam you do not want to rush.
Notice Required
Depending on the type of procedures we'll be undertaking, 24-hours minimum notice should suffice (my schedule permitting of course). If you have something specific in mind, feel free to ask.
Pre-session Preparation
You will shower and groom yourself as if you were going on a date. Dr. Mindy does not deal with stinky, dirty patients.
After-hours Doctor Medical Fantasy
I'd been having trouble sleeping at night because I couldn't breathe... my nose just always seemed congested. I called a specialist and received her after-hours number. She left the office, but when I begged her to see me so I wouldn't have another sleepless night, she agreed to allow me to drop by her home.
I got to her house and couldn't believe her. A stunning young doctor in her white coat down to her thighs, breasts straining to be released. She had me sit in an examination room. "Strip down to your underwear and I'll be right in", Dr. Mindy said in a gentle and soothing tone. This seemed odd as I expected her to just examine my nose and throat, but she was the doctor - who was I to question it?
She re-appeared and asked me questions about my sleeping habits and how long I'd had the issues. My eyes kept travelling down, wishing for that top button to break, my tiny erection starting to appear in my tighty whities. If she noticed, she hadn't let on. She had me lay on my back - I casually placed my hand on my crotch to shield it, but she asked me to place my arms by my side and relax. She examined my nasal passage with her otolaryngoscope, listened to me breathe through her stethoscope and felt my throat and chest while I stared at her magnificent chest.
"I'm going to have to refer you to a specialist who will likely send you for scans", said the stunning doctor. I sat up and placed my feet on the floor, and sighed with disappointment at the prospect of another terrible night.
"However, I think there is one more thing I should try before you leave."
"Anything", I replied.
"Turn around and lean forward, reaching your arms out to either end of the table as far as you can and lay your head on the table." I followed her instructions. Before I could react, I felt her cuff each of my hands to the ends of the examination table. I was completely vulnerable, bent over in nothing but my underwear.
"Next time you visit a doctor, you should learn to treat them with a little more respect. I didn't get an MD so you could ogle me like a stripper and get aroused."
I tried to apologize profusely. "I'm so sorry Dr. Mindy, I couldn't help it." She was already pulling down my underwear, leaving me and my full erection on display.
"That's Mistress Mindy now you little peon." I turned my head to the left and watched as she unbuttoned her coat one button at a time, revealing a black leather corset, holding up the most incredible breasts I've ever seen, a tight black skirt hugging her beautiful ass and long legs with what I can only assume were stunning feet in a pair of black leather boots.
"I'm so sorry Mistress Mindy, you're so beautiful... I can't help it..."
"Do you want to fuck me? Is that it?"
"More than anything Mistress."
"Well, you're certainly about to get fucked", she replied, as she lifted her skirt to reveal a 10" black strap-on penis. My bottom lip quivered at the thought of what was to come next.
Captured Spy Medical Fantasy
"He's no longer under your control", said the buxom blonde on the screen. "Thanks for the asset though". She smirked and the pentagon monitor fizzled out.
The higher ups shook their heads as one pounded the table. Colonel Powell stood up and stomped towards the door, looking back and yelling "Someone better find out how the fuck this happened!"
--
Martin Campbell was one of the United States' top spies. Not the type who run around blowing things up and assassinating terrorists like an Arnold Schwarzenegger movie. He was all about the intel. Martin knew how to hack security systems and manipulate people. He was the extremely rare combination of brains and charm. His incredible talents were mentally exhausting. Often he'd work for months straight, and then receive weeks off at a time to recharge.
After his latest mission, the specialist headed North into Canada. His plan was to drive up to Algonquin Park and spend a few days in the wilderness completely unplugged and disconnected from the world. This type of adventure was nothing new for the 45 year old. He'd enjoyed the wilderness aspect of his training early on and liked the outdoors - another rarity for a hacker. He did look like the outdoor type though - strong forearms, trimmed beard and steely eyes.
As he passed Toronto and made his way up Highway 400, he decided he should probably spend the night in a motel and complete the final three hours of driving in the morning so he could enjoy most of the day to find a site and settle in. Martin took the next ramp off the highway and found a motel within minutes. After grabbing a room, he walked across the street to a bar so he could grab a scotch and some form of unhealthy appetizer.
It was dark, there was country rock playing, and the TV's had poker on. It would do just fine. Martin sat at the bar, ordered his scotch neat and potato skins, and watched Phil Ivy bluff his way to a $500,000 pot with a pair of sixes. As he was finishing his potato skins, the door behind him opened, and in walked a woman unlike any he'd seen before. About 5'8, long blonde hair, stunning blue eyes, gorgeous face, a black tank top, tight jeans and black fuck me boots. More impressive was the hourglass figure of epic proportions, featuring a pair of 36H breasts and the type of ass that would jiggle beautifully when spanked. Just his luck, she was coming to the bar as well. She sat 3 stools down and ordered a glass of wine.
Martin glanced without staring, but she barely seemed to notice him. He tried to catch her eye, but she was checking her smartphone and turned slightly away. 'What the hell', Martin figured. 'If I've got skills, why not use them'. He stood up, walked past her, then sat on the stool to her left so she was now facing him. She looked up and pursed her lips as he smiled at her.
"Let's cut the shit", Martin started, "You know I'm sitting there looking at you, and you're making it very hard for me to make my move. So I'm going to save us both time and just put it out there. If you're interested, I'm in the stool over there." He nodded his head towards his seat.
She shook her head with a slight smirk. "Thank you for being clear about what you want. Now I'll be clear. If I'd wanted you to make a move, I'd have faced you and I wouldn't be checking his phone to see where my friend is."
What a stone cold bitch. Martin simply looked her in the eye, trying to read her. She looked back, almost bored, and simply returned her eyes to her smartphone. He stood up and went back over to his stool. Everyone gets shot down sometimes - nobody can score at 100%, but he really wanted to see those huge tits.
Martin continued to watch poker as he finished the compensatory order of mozzarella sticks he bought to cheer himself up. The bartender walked over with a fresh scotch. "I didn't order that one", Martin told him.
The bartender slid it in front of him. "Courtesy of the lady".
He looked to his left, and the blonde walked towards him, sitting in the stool next to him. He nodded a thank you to her, and she tipped her head back.
"I was a little rude. You're not the biggest prick I've met recently, and at least you were honest, and unlike my friend - you're here."
Martin smiled. He knew already she was coming back to his motel with him.
They made smalltalk for a bit, laughing at each others' jokes. Nikola was great company. He decided it was time to make his move. Martin stood up and stretched, and said he had to get going as he had a long day in the morning. His lack of interest always made them chase. But this girl wasn't the average girl.
"Martin, honesty, remember? We both know you want to fuck me, and I want you to. But I'm not coming back to a shitty motel room to get bed bugs or whatever shit is there. I live like 5 minutes from here. Follow me."
Martin paid the bill and followed her to her house. It was a charming little place. She parked in the garage, he in the driveway. They entered the front door, and Nikola told him to make himself at home in the sitting room. He kicked off his shoes and relaxed.
Nikola came back with a couple of drinks. They each sipped, and she told Martin to turn away so she could give him a massage to relax him. Martin never turned down massages - they always lead to sex after all. She worked his shoulders and neck with very strong hands. He closed his eyes and enjoyed the sensation.
All of a sudden he couldn't breathe. Martin gasped and struggled to breathe. A cloth was covering his nose and face. Chloroform. What the hell was she doing? He struggled, but he'd already inhaled enough that he was woozy and weak.
Nikola didn't let him fall unconscious, but she put him in a perfect state of disorientation that he could tell what was going on, but it was confusing. All he remembered for sure was being led down a set of stairs.
When his head cleared, he was blindfolded, laying on his back completely naked on a stand-alone medical table with wax paper. His wrists were cuffed to each other under the table, while his ankles were also cuffed to each other. To limit his movement, the two sets of cuffs were tied as tight as his joints would allow. He was completely trapped. As he tried to protest verbally, he realized he had a ball gag in his mouth.
He lay there awake trying to listen for a way out, but realized there wasn't one. After what seemed like hours, he finally heard footsteps.
Nikola's voice broke the silence. "Martin Campbell. We have been waiting a long time to get our hands on you." As if she could read his thoughts and questions, she continued. "I represent an international organization with a lot of pissed off people, thanks to you of course. Rather than kill you, we decided you would be much more fun to torture, and possibly turn to our side."
Martin laughed to himself. He may not have been trained for this, but he could handle a little torture. Again, she was a step ahead.
"It's not the type of torture you expect though - it's just me and my little toys…"
He felt her reach around his head and undo the ball gag. The blindfold, she left on.
"The first thing I'm going to do is take your temperature."
He licked he lips and snickered. "Ok, so you're a doctor, is that it?" He left his mouth open for the thermometer. He was quickly shocked by the cold, lubed feel of the thermometer invading his ass. He yelped more from the shock than the discomfort. "You could say that", she replied.
The thermometer beeped and she popped it out.
"99.5… not sure I believe that. Better be sure." He braced for the invasion again, but was shocked when she just stuck it in his mouth. This chick was sadistic. He tried to spit it out, but her hand gripped his throat and she quietly said "You're in no position to refuse anything I want to do to you. If you struggle or resist, you will be MUCH more miserable…"
Martin closed his lips around the thermometer, miserable. It beeped again and she let it stay in there a few moments longer than he would have liked. She pulled the thermometer and read aloud "99.1 - ok, we'll put 99.3 to be safe."
Martin heard the pen writing on the pad. He started to feel nervous. How long was this going to take? What would happen next? Before he could move on to his next contemplation, he felt a small, cool piece of leather being stroked along his chest. She worked it down to his groin, moving down the outside of his right thigh, then up the inside, barely grazing his balls, then down the inside of his left thigh, and up the outside, and back up his chest. Amazingly, he felt a twitch in his cock.
"I'm going to start testing your sensitivity now", Nikola said, "pain, pleasure, muscle response… not in that order", and she slapped his left nipple with what he now knew was a crop. The pain stung as he twitched.
"Oooo, very good", Nikola cooed. She continued to work his nipples, his sides, and moved down, making sure to pay special attention to his balls, and now-hardening cock.
"Oh no no no Martin, you're not allowed to enjoy this." Before he could voice his protest, Martin felt a needle pierce into his shaft. He screamed in pain as Nikola pushed fluid into his penis. Within seconds, the swollen member became flaccid.
Nikola's hands rubbed his chest, and then he felt something slightly cool, flat and sticky on his left nipple, then his lower abdomen, just above his cock. He shuddered lightly at the sensation. "This is a tens unit Martin. I'm going to see how you respond to electrical currents." She turned it on to a low setting, and he felt what almost seemed like a hand gripping his chest and stomach from inside and twisting. He half gasped, half yelled, and she turned it off to take notes. She continued to turn the machine on and off at different settings, moving the pads over to his right nipple and stomach, swhile combining with more crop work on his cock and balls. And somehow, her magic boner-killer had already worn off, as he was fully excited again.
But now, pain was temporarily put on hold, as he felt a vibrating device on his shaft. It felt incredible, and she took it away. All of a sudden, she removed the electrical pad from he nipples, stuck one to he shaft, the other to he left testicle, and gave him a low-powered jolt. It felt like he was being kicked in the balls and shaft by steel-toed boots. Again, his erection disappeared as he gasped for breath.
After a short pause, Nikola's gloved hand examined his balls and soft penis. "It is important that you're completely healthy and… fully functional, if you know what I mean." Predictably, feeling her lightly squeezing he testicles and rubbing his shaft, he started to get hard again.
Once again, the vibrator was placed against the tip of his cock. He moaned.
"Martin… it's safe to say you'll never get out of this position if I don't want you to, right?"
Dejected, but aroused beyond belief, he replied "Yes".
"How do you feel about being so helpless?"
"I hate it". He would soon learn that he was lying to her and to himself.
He was feeling close to approaching orgasm. Just before reaching the edge, she removed the vibrator.
"PLEASE" he yelled, without even meaning to.
"What would you do for me if I let you come Martin?" Nikola asked deviously.
He frowned and realized his dilemma. He stayed silent, and felt the vibrator graze his cock again.
His orgasm was approaching again, when all of a sudden he yelped from another injection.
This bitch was never going to let him come. And she was going to torture him with no release for as long as she wanted. He was in a dire situation. The vibrator was still on his now soft cock, but it was stimulating him to a new erection. More importantly, his mind was starting to lose control. He was starting to think of how he could please her so she would give him the pleasure he needed.
"Martin, you know I'm going to do this every day and every night… I won't get tired of it. How long can YOU last?"
Martin's cock was fully erect again. The crop smacked his right nipple, and he barely noticed. It even felt good. The vibrator hummed away on his shaft.

As he approached the tipping point yet again, Nikola pulled the vibrator away. Martin groaned in frustration and tried to thrust his cock upwards. How frustrating it was to not know what was coming or where anything was.
"It's ok love", she said in a comforting voice, "I was not going to let you come tonight anyway. Get some sleep. Tomorrow, you're going to be turned over so I can give you an enema and examine your rectum. Based on my notes about your sensitivity, I have a feeling you have a very sensitive prostate."