Dual
Toronto Dominatrix Mistress Mindy - Dual Domme Sessions
Sometimes one dominatrix, even if it's me, simply needs another pair of hands (and breasts). Whether I'm a doctor who needs her sexy nurse, or we're sisters you've always been inappropriate with... I have sexy friends I love to bring in.
If you are a dominatrix and would like to join me (or have me join you) for dual domme sessions, contact me! Also contact me if you're interested in training as a domme.
Have you read my blog? I have some fabulous posts about dual domme sessions!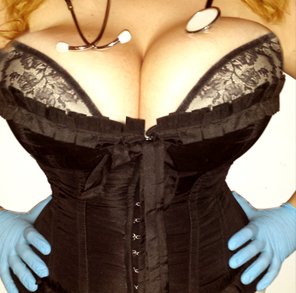 Miss Angelique - Switch
Meet Miss Angelique. She is a switch, meaning she is more than willing to join me for dual sessions in both roles - as a devious domme, or as an obedient sub. With flowing dark hair and petite features, Miss Angelique is a perfect compliment to my blonde hair and ample curves.
Perhaps we're your Doctor and Nurse, both putting you through a strict examination.
Perhaps she looks like your secretary, who you've always thought needed a spanking.
Or perhaps you have another fantasy that we can make a reality.
Contact me and let's switch it up with Miss Angelique! 😉
General Points about Dual Sessions
Time Required
For Dual Domme Sessions, one hour or more is acceptable. But if you want to really take advantage of both of us being there, you may want to book two hours.
Notice Required
I am unable to book with less than 24 hours notice on my own. Coordinating with a second domme will require more patience. Try booking about a week before and I will do everything I can to accommodate.
Pre-session Preparation
You will shower and groom yourself as if you were going on a date.
My Employee and My Wife Dual Domme Fantasy
I am a pretty successful and happy guy. At 40 years old, I'm a VP at an investment firm. My salary is 6 figures and I manage a team of 20 at work. I'm in good shape, I'm respected by my peers and I wake up feeling pretty damn lucky to be me. My BMW has a personalized license plate that my wife bought for me: BigMW. It always gets me funny looks and the odd horn honk.
Ah yes, my wife - Brianne and I have been together for 7 years. She's very attractive. At 33, she's 5'7, 140 lbs with dark brown hair (slightly colour-assisted), brown eyes and a firm build with just enough curves to look healthy, but not too muscular or skinny. Our life together is good, if not routine. She works part time with an old college friend, more as a consultant for her event planning business. She makes her own hours and we spend time together and apart with friends. We fuck about 1-2 times a week, pretty vanilla. She has some lingerie and we both come, so there's no complaints there.
Recently we were having dinner, and she told me that she'd be visiting her parents in Chicago for the next couple of nights. This being a Thursday, I was a little thrown off. Usually her visits wouldn't take place over a weekend, but that was fine with me. I'd been waiting for a weekend to myself because of Monica.
Monica has worked on my team for about 3 months now, and the day she came in, I felt a jolt of electricity when we shook hands. At 24, Monica is not the standard fantasy all men have. I'm not going to describe a barbie doll, because she isn't one. Monica is definitely a blonde bombshell with a beautiful young face and blue eyes, but with an hourglass that's not typical at all. Her chest is an impossible 36H, while her hips and ass must be 38-40 inches around. She has this incredible "fuck me" presence and just exudes the sexual confidence of a woman twice her age.
It's safe to say that I wanted her the minute I met her, and she felt the same way. Every time she bent over me and lingered, pressing her huge breasts into my shoulders, the way her hips graze me "accidentally" every time she walks close to me… but the most telling sign is that even with an impressive education that includes a minor in english, she constantly presents her reports to me with typos. I believe she does this because she likes when I call her into my office to reprimand her and demand a higher standard. As I point out her mistakes, she squirms uncomfortably and bites her lip slightly, giving her both a vulnerability and a confidence that simultaneously fill the air with a sexual tension that has taken over my visual images that same evening when I go home and fuck Brianne doggy style. I envision that juicy ass, tits flopping, Monica begging me to forgive her for her mistakes. This was finally my chance to start breaking the ice with Monica, to see if there was any possibility we could develop a more personal relationship.
The next morning, after kissing Brianne goodbye as she pulled out her suitcase, I came into the office with a big smile on my face. Nobody noticed except Monica of course, who raised an eyebrow curiously.
After we finished a weekly status meeting, I congratulated the team on exceptional results, and asked Monica to come to my office to discuss her latest reports. She followed me into my office.
"Close the door Monica", I said with authority.
She did, and she sat down in the chair across from my desk.
"I'm sorry Mr. Harrison, were my reports substandard again?"
"Monica, sometimes I feel like you understand and love your job, but I don't know if you understand the importance of being meticulous with grammar and spelling."
She squirmed in her seat.
"I'm not really sure what to say Mr. Harrison", she replied, "I just feel like the big picture is more important than some little commas or the right version of 'there'."
She leaned forward a little and I lost myself in her cleavage. I'm sure she noticed, but when I looked up, she was looking down.
"Monica, our clients demand perfection. This is why we're the best - because we care. If you're careless with your reports, they feel we may be careless with their money."
She nodded and continued to look down, yet I swear I detected a hint of a smirk forming on her lips. However, she looked up with a very solemn expression.
"Mr. Harrison, you're absolutely right. I am so sorry. I have been letting you down, and I feel terrible." Her lips trembled, and she wiped a tear I couldn't see from her cheek.
Now I felt a little concerned that I may have gone a little too far. Truth is I do believe the big picture was more important - anyone can use a spell checker or hire an editor - proper analysis and forecasting is where the true talent lies, and this girl had it.
I stood up and walked around the desk, contemplating draping a supportive arm around her, but I didn't want to push for too much too fast. Instead I sat on the edge of my desk and placed a hand on her forearm and patted it.
"All I'm asking is that you take care Monica. I know you're a great fit here, and I want you to be a part of my team for a long time."
She looked me in the eye and grinned at me, standing up and throwing herself into my arms for a hug. I adjusted my stance to hide the growing lump in my pants.
"Mr. Harrison, if you're not busy tonight, I'd like to show my gratitude for your patience by inviting you and your wife over for dinner."
It took every game of poker I'd ever played to control my overwhelming desire to yelp with excitement, and maintain a cool and calm expression as I contemplated her offer. If I told her Brianne was out of town, she'd offer to reschedule. And obviously my whole goal was to see Monica alone.
"I'll give Brianne a call to confirm, but let's say absolutely. We'll be there."
Monica squealed with excitement and hugged me again, telling me we should arrive for 8:00.
The rest of the day was uneventful, so I ducked out around 4, giving Monica a quick thumbs up. She had emailed her address and signed it with a wink.
As I showered and got dressed, I went over my strategies in my head. I had to show up at Monica's with a good reason for Brianne not being there. In the end, after playing out a number of scenarios, the old classic "she came down with something and told me to go have a nice evening while she took a sleeping pill" won out.
I grabbed a bottle of Chardonnay from my rack and got in the car. The highway seemed empty, and a horn honk with a thumbs up from a young couple made me smile with the anticipation that this was definitely going to be my night.
Monica's house was very charming - a nice bungalow in a good neighborhood. I rang the doorbell and within moments, she answered the door. I was a little surprised to see her wearing a somewhat loose-fitting grey turtleneck sweater and conservative black dress pants.
"Hi Mr. Harrison…", her eyes scanning the porch, "where's Mrs. Harrison?"
"Monica, tonight call me Chris." I gave her the pre-conjured excuse and she nodded. However, there didn't seem to be disappointment as she welcomed me in. I smirked as I walked past her, catching a hint of her perfume. She smelled good enough to eat.
We sat at her dining room table and she cleared the empty 3rd setting. Dinner was delicious. She made a mixed green salad with raspberry vinaigrette, and simple broiled seasoned chicken breasts with roasted potatoes and asparagus. The conversation was very casual at first, but quickly shifted as more wine was consumed. My nerve increased as I asked about her personal life. After some discussion about dating, she mentioned her recent sexual "dry spell".
I prodded slightly, and she blushed as she described her last couple of sexual encounters months earlier as being less than satisfying.
"Jake was a stud, but after he came in my mouth, he literally lost all interest, so I sent him home", she recalled. "Derek was more attentive, but he didn't really know what he was doing, so it was like he just spun his wheels and got me nowhere. By the end, I almost fell asleep!"
We had moved over to the couch, and her thigh was against mine as I leaned in and listened attentively.
"Monica, you need to meet more men and avoid these inexperienced boys who don't know how to please you properly", I said soothingly.
"And where would I meet these magical men Chris? Do they just magically appear?", she asked as she licked her lips slightly.
"Sometimes they're right under your nose Monica…"
I leaned in to kiss her, but she shocked me by turning away slightly. I leaned back, and received my second surprise within 3 seconds. Monica swung her leg over my lap and straddled me, her breasts inches from my nose as I sat back under her. She pinned held my hands in hers on the tops of the couch cushions on either side of my head and ground slightly in my lap.
"Chris, you're glad Brianne isn't here, aren't you?"
My erection strained against my pants. "You can't even imagine."
Monica leaned down and whispered in my ear "I think it's time to take you to the basement."
She stood up and led me by the hand to the basement steps, and led me down the steps. The basement looked normal enough, but she led me to a door that she opened. When I stepped inside, I was shocked yet again. This partially finished room contained an X-shaped wooden structure with bindings in multiple places.
Sensing my curiosity, Monica spoke quietly as she stepped behind me, pressed her breasts into my back, reached around and rubbed my chest. "It's a St. Andrews Cross, Chris. I can bind you to it and you will give me complete control of your body. Every ounce of pleasure, completely in my hands. Do you want me to make you feel like you've never felt before Chris?" Her hand had moved down towards my belt, and travelled further down, brushing over my crotch. My cock sprang at the slight attention.
I was hypnotized as I nodded. She undid my belt buckle and unbuttoned and unzipped my pants. I stepped out of them as she unbuttoned my shirt, slightly nuzzling my neck as she did so. As every second passed, I felt any aspect of control I thought I had slipping away. At this point, I would have begged for her to grasp my cock and tug it, let alone head or fucking her. She slowly placed her thumbs in the waistband of my boxers and pulled them down slowly. I stood fully naked in front of her. She looked down at my full glory, smiled and licked her lips.
She nudged me to the cross and bound first my right wrist, then my left to the tops of the X, followed by my ankles. I was now standing completely bound and helpless, and I'd never been more excited. She ran her fingers from my chest down to my stomach, then traced them from my thigh just inside, missing my shaft by an inch even as I involuntarily thrust it towards her warm touch.
Monica pulled her hand away with a smile. "I'm going to slip into something a little… less comfortable. I'll be right back", she said in a teasing manner.
I was practically shaking in anticipation as I heard her footsteps upstairs, then finally heard her making her way back down to me. I couldn't believe my eyes at the luscious sight the stood before me. This curvy goddess was wearing a tight black leather corset tied up in the back, pushing her massive breasts practically up to her chin, pinching her waist in, then flowing into those beautifully round hips, hugged tightly by her tight gray skirt that stopped halfway up her thighs. Following the long legs down, she wore black leather boots up to her knees.
She walked over to a dresser and pulled out a thin piece of cloth. She stepped in front of me, her face inches from mine, and held it up.
"Chris, I'm going to blindfold you now. You will be able to concentrate and enjoy every second down to your every last nerve."
She tied the blindfold and now I could see absolutely nothing. She turned on some soft music - something with a very sexy, ambient feel.
She made her way over and I could feel her fingers again tracing parts of my body - my shoulder, my triceps… I could feel the warm leather brush up against my chest as she leaned into me, cooing softly as goosebumps protruded from my flesh.
"Chris, why didn't your wife come tonight?" she whispered as something that felt like a thin strip of leather brushed around from my outer to inner thigh.
"She came down with something", I replied.
THWACK
The sting on my thigh shocked me and I yelped in pain.
Then the leather strip stroked the length of my cock, causing it to twitch.
"I'll ask again Chris, and be honest this time."
I was a little worried now. Did she know I was lying in the first place? Did she know I'd set this up to be alone with her?
"She couldn't make it… she wasn't feeling up to it", I tried again, attempting to convince myself as well.
THWACK
The other thigh now had a matching stinging sensation, and it was again followed by the stroking of my cock.
"I don't think she was ever going to come tonight, was she Chris?"
I strained to see through the blindfold to determine if this was a game, or if she was seriously annoyed.
A gloved hand now took hold of my balls, stroking gently and squeezing ever so slightly.
"She's not even in town. She left this morning, didn't she Chris?"
My mouth opened in shock. How did she know this? Somehow, before I even realized what was happening, what felt like a rubber ball had been shoved in my mouth and strapped to my head. I would later learn this was a ball gag.
"I would say he definitely needs to be punished for his lies and deceit", Monica said. Who was she saying this to? And when had she put on gloves?
A familiar voice replied, "Oh, he's going to be punished all right."
A hand yanked the blindfold from my eyes, and after re-adjusting to the light, I mumbled in shock against my gag at what stood before me.
Brianne stood in a black and pink leather corset of her own, pushing her modest breasts up. Her dark hair hung straight and past her shoulders. Long leather black opera gloves covered her arms from fingertip to elbow. She wore back lace panties and stockings, and high heels. She and Monica were standing shoulder to shoulder as I struggled against my restraints. It was no use. The bindings weren't forgiving at all, and I was stuck.
"You probably have some questions", Brianne exclaimed with disdain. "They do not require answers right now. But let's just say that I met Monica when I came to the office one afternoon a couple of months ago, and we've stayed in touch. Turns out we share an annoyance for your misdirection of lust."
My head drooped as I realized these two had planned this all along, and I walked right into it.
"Oh no, sweetie, don't feel sad. You're going to have a GOOD time tonight. All you need to do is be honest with us. Do you think you can do that?"
I nodded at my wife, realizing that my cock had not even slightly softened.
My wife maintained a very serious expression. "Have you been fantasizing about seeing and groping Monica's tits for a while now?"
I nodded enthusiastically, encouraged by the promise of a good night, waiting for her to free my hands so I could fulfill my fantasy. Instead, Brianne walked behind Monica and pulled the enormous breasts from the leather, exposing the most lovely pink nipples. She cradled the breasts and tweaked the nipples as Monica leaned back with her head on my wife's shoulder and sighed.

I moaned into the ball gag. I never in my wildest dreams pictured my vanilla wife touching another woman, especially like this.
They separated and took turns lightly whipping me with the crop and smacking my chest with a paddle, followed by my abdomen, thighs, and finally my balls and shaft. I know I shouldn't have enjoyed it, and yet it was the most erotic thing I'd ever felt.
Finally when I thought I couldn't take it any more, they each untied an ankle.
"Chris, follow us", Monica ordered. At this point I would have walked across coals barefoot.
They led me to a basement living room with a cushioned massage table.
"Chris", Brianne softly said, "Have you always dreamed of being fucked by Monica?"
I nodded and yelled a muffled 'yes' into the ball gag.
"Are you into anal, Chris?" Monica asked. My cock almost exploded. Brianne had never let me fuck her in the ass. I couldn't believe I was going to get to fuck Monica's ass in front of my wife. I nodded way too enthusiastically again.
Monica walked to the end of the table and bent over, sticking her ass out as she did so. Her chest was on the table, her arms reaching down and grasping the table's middle legs. My wife led me by the hand behind Monica. Brianne ran her hand over my employee's delicious ass as Monica cooed. "Do you see the position she's in Chris? Do you like that?"
My bobbing penis answered the question for me.
Monica then stepped aside and Brianne pushed me forward to the table. "Good. Now copy the exact position she was in", and together they forced me face down. Monica was on her knees and tied my wrists on either side of the table to the legs as my wife held me down, then she tied my ankles to the legs at the end of the table.
I turned my head to the side and watched Monica pull her skirt up around her waist, revealing a black 8-inch strap-on.

Monica was positively full of glee as she walked behind me. "I'm so glad you love anal Chris… I love fucking a man's ass!"
My eyes widened in shock. As I felt her fingers spreading a cool lubricant around my asshole, I squeezed my eyes shut. That quickly changed as my wife's gloved hand grabbed my hair and pulled. I opened my eyes and yelled into the gag as she climbed on the table in front of me with her legs spread. I could see the black panties were damp. Monica was warming me up now, working her index finger into my ass up to the first knuckle. The sensation was tight and awkward, yet pleasurable. My wife had produced a magic wand and was now running it over her panties and focusing on her clit. Her soft moans were barely audible over the humming of the device.
In the meantime, as I watched Brianne pleasure herself inches from my face, Monica had worked two fingers into my ass easily. She pulled them out, and while I couldn't see her do it, knew she was lubing up the black beast that hung from her crotch. Within a second, she thrust the cock into me and I screamed at both the invasion, and the waves of euphoria I had just experienced. The incredibly intoxicating scent emanating from Brianne's orgasmic pussy combined with this blonde goddess pounding me from behind was incredible. I moaned into the ball gag. As I felt myself nearing the edge, my wife's hand slapped my face hard. "We didn't say you could come yet."
Brianne slid off the table, and Monica came over. She had removed the black cock and strapped on a clean white one. From behind, I felt the straps from the ball gag being released, and my mouth was now free. I relished the freedom and licked my lips. Monica mounted the table in front of my face, holding the cock in her right hand, inches from my newly liberated lips.
"Chris, would you like to suck my cock now?" Monica asked with a smirk.
"I umm… not… no…"
THWACK
A spiked paddle smacked my ass from behind.
"Chris, when a lady asks you to suck her cock, you do as she wishes", Brianne exclaimed, as she repeated the motion again.
I yelled in pain, and Monica took that as an invitation to shove the rubber cock in my mouth.
Behind me, my now-sadistic wife alternated between spanking me and filling me with the black dildo. I was being double penetrated by my wife and my employee.
I'd never been more turned on.
"Chris", Monica said, "Do you want us to let you come?"
"Mmm hmmm", I replied around the white cock in my mouth.
She pulled the cock from my mouth and replied, "then maybe you should ask your wife nicely."
"Brianne, can I come now?"
THWACK
"You do not address her by a common name. She is your goddess, your mistress. You will treat her with respect."
THWACK
The dildo in my ass thrust faster now, nudging my prostate… I needed permission.
"Mistress, please may I come? Please!"
"You may come slave", said my wife, as a condom was rolled onto my cock at the end of the table.
Monica shoved the cock back into my mouth while Brianne slammed the cock into my ass and I exploded, filling the condom with my come.
They untied me and I stood looking at them with a mixture of elation and shame. Brianne and Monica sat on the couch together, stroking each others' arms, thighs and hair affectionately.
"Things are going to be different at home Chris...", Brianne stated, stroking Monica's neck with her fingernails.
"… and at work too… Mr. Harrison", Monica added.
My Terrible Neighbour Dual Domme Fantasy
I moved in last month. My house is a charming end unit townhome on a quiet street. My neighbour next door is an adorable girl - she's 28, has short brown hair, great curves, about 5'4 and the quietest, sweetest little thing. It's safe to say I liked Angelique from the start. She's a perfect neighbour too - never parks on my side of the driveway, never makes noise, and she's always friendly and chatty.
We've gotten together for drinks a few times. She always acts shy around me - but most people do. When they see a tall attractive blonde with ample curves, they tend to act jealous or shy. I'm blessed and I know it. Sometimes she is just in total awe… I present myself well and share some stories of work and sexual escapades, but nothing I consider mind-blowing. I figured she'd have plenty of experience herself, but she was in an 8-year relationship with a guy and they broke it off two years ago. Luckily she makes good enough money to maintain her house on her own. She has virtually no social life, but I liked her and knew we'd become friends.
Last Friday, as I was getting home from shopping, I got out of my car in the driveway to see Angelique sitting on her front step with her head in her hands. She was crying.
"Hey Ang, are you ok?" I asked.
"Hey Mindy - yeah, I'm fine… it's just… never mind."
I prodded a little, and she revealed that her neighbour on the other side, Tony, was essentially a huge douche. He would stay up late at night blasting music loud, bang on walls, mow his lawn early on Saturday mornings and generally just had no respect for anyone at all. On the multiple occasions she asked him to stop or change his behavior, he'd make lewd comments about her breasts or ass, and make her feel so awkward that she'd just turn and leave to avoid further discomfort.
I put a comforting arm around her.
"Sweetie, you just need to ignore his rudeness and sexism. He's diverting to avoid his assholery."
Yes, I make up words.
She wiped her eyes and explained that after so many failed attempts, it was just better to ignore him and escape to her front step momentarily. As far as I was concerned, she couldn't be more wrong. I knew exactly what I had to do.
The next morning, I woke up at 6, a very tough task on a Saturday. I showered, shaved my legs (and other areas), and put on a sexy tank top (which of course barely did a thing to contain my H-cup breasts) with my shortest shorts and flip flops. Hot and casual. My blonde hair was at its best, long and wavy, cascading over my shoulders. I felt I looked perfect - just the way many men (and women) have found irresistible.
Within 10 minutes, I heard the faint sound of the lawnmower two houses over. One last check in the mirror and I went out the door.
I walked to my car, about to open, then faked a moment of contemplation. I didn't even need to look to know he was watching me.
I looked up, and sure enough his eyes were fixed on me. I walked around my car and towards him. He put on a cocky look, and I knew he was already prepared to argue his right to mow his lawn whenever he wanted.
"Hi - you're Tony, right?"
He nodded and replied "I guess my reputation precedes me." What a cocky prick.
I smiled.
"Listen, is there any way I could ask you to do my lawn next? I would be happy to pay you."
He was shocked - I could see he wasn't expecting that.
"Sweetie, even for someone with your tits, I'm no lawn boy", he stated arrogantly.
I feigned disappointment and bit my lip.
"I don't want you to be my lawn boy… I just thought you might like to make a few bucks since you already have the mower out."
"I don't need money sweetie… but I bet there are other things you could do to thank me."
This guy couldn't be more predictable if he had a neon sign above his head outputting his thoughts.
"I don't know what kind of girl you think I am Tony, but a blow job for a mowed lawn seems like a terrible trade off."
His eyebrow raised. He wasn't expecting me to be so straight forward and literal about this. But if I knew his type, I knew he'd shift right into cocky mode and try to play me.
"You'd be getting way more than a mowed lawn sweetie… I can do things you couldn't imagine. But I doubt you'd be able to handle it, so never mind."
He negged me. Perfect.
I leaned in a little. "What kind of things exactly? I can handle more than you realize."
I could tell his brain was giving itself a high five, as he felt I was just some dumb chick he was reeling in with some crap he paid $50 on the internet to read that would convince women he was a prize. Neon sign.
The "witty banter" went on for a few minutes, and by the end, I'd touched his arm and laughed at terrible jokes, and agreed that he would mow my lawn and we'd have dinner at my place that night.
I went out and grabbed a coffee - being up this early on a Saturday morning sucked. After running a couple of errands, I came home and found my lawn mowed in a half-assed fashion. Chapter 8, make an effort to NOT make an effort to impress them. If you seem like you're trying too hard, you will fail.
At 8:00, there was a knock at the door. I opened it, and Tony was standing there in jeans and a wife beater. He must have read chapter 8 twice. At least his tattoos were kind of impressive. But douchey nonetheless. He definitely liked what he saw, as I'd put on tight jeans and a tight low cut black top, showing off every curve and ample cleavage.
We ate my beef stroganoff and I listened to him talk about past conquests - chapter 12. Some I'm sure were fictional, and some were definitely real girls with self-confidence issues who I felt the urge to find and befriend so I could help them avoid assholes like this. But I plowed through so I could carry out my plan.
We went to the couch to let the food settle, and he leaned back, waiting for me to move towards him. Chapter 15.
I feigned enough interest, but kept a slight distance. Finally I decided it was time.
"Tony - let's cut the crap. You're here because you want to fuck me, and because I want you to."
He smirked and leaned forward to stroke my hair. "You think I didn't know that?"
I ran my hand along his leg, up his inner thigh. "Thing is, I don't like Vanilla sex… I like things a little kinkier."
He shifted a little, but maintained his fake composure. "A little BDSM stuff? Yeah, I'm down with that."
I smiled, and put my other hand on my left breast, caressing and squeezing a little. He swallowed a little and let my right hand continue to stroke his thigh, slightly shifting again so his crotch would be closer to my fingers.
I stood up and took his hand, leading him to the stairs and down to the basement.
We sat down on my couch. He leaned back, still employing chapter 15 even though I'd given the green light. I put on some music and swayed seductively to it. He smiled and enjoyed the show, as his erection started showing through his pants.
I stood in front of him and leaned forward, giving him a great view, tracing his inner thigh again.
"Tony, I want you naked now", I whispered as my fingers brushed over his hard cock through his jeans.
Chapter 15 went out the window as Tony jumped up and ripped off his shirt and jeans. He hadn't worn underwear. Of course. His cock was as average as I'd seen. About 5 inches, average girth. Exactly what I expected.
"Are you ready to have the most incredible night of your life?"
"Are you?" he replied, attempting to regain some control.
I stood behind him and caressed his chest, pressing my breasts into his back.
"I think we're both going to get exactly what we want."
I stepped over to the massage table on the side of the room and uncovered it. His eyebrow rose.
"I told you… I'm very specific", I said with a twinkle in my eye.
Without me even asking, he strode over and lay on the table, and patted his lap as if to order me to mount him.
I climbed on him and slightly ground myself on his naked erection. Had to be careful - jeans on skin can be painful. He moaned. I giggled. "Are you ready to start the real fun?"
"Absolutely", he replied, his hand stroking his cock. He had reached the point where he needed sexual contact enough to do whatever I wanted.
I dismounted and pulled a blindfold from my pocket. I stood behind him and wrapped it around his eyes. "Trust me baby, you're going to love this."
He half snorted and half snickered, surely unable to believe that a woman like me had fallen into his trap so easily and quickly. How little he knew.
I pulled his arms to the sides, dangling from the table. I caressed his wrists a little, as I reached under the table for the rope. Before he could react, I'd looped my pre-tied slipknots over his wrists, securing them tightly so he couldn't move his arms. Before he could say anything, I stroked his face, stood again, and stroked his inner thigh. His cock twitched.
"I am going to make you feel things you never imagined you gorgeous slab of beef", I whispered again. He relaxed and urged his hips towards my hands again. I secured his ankles one at a time, while continuing to caress him teasingly. His moans and constant repetition of "yeah baby" ensured he was enjoying himself.
"Now I'm going to go get into something more appropriate for all the fun we're about to have."
He smiled. I could tell it was his first time being tied up, and he was loving it.
I went upstairs and quietly opened the front door, sneaking out and closing it silently behind me. I walked next door and knocked. As I figured, Angelique was in sweats wearing glasses. She was probably reading. Her eyes lingered at my breasts, then she looked up.
"Hey Mindy, what's going on?"
I grabbed her hand, pulled her out and closed her door behind us. As we crossed the driveway, she kept asking what was going on. We got to my door, and I put a finger over my lips to indicate she needed to be quiet. We snuck into my house and crept downstairs.
Angelique's eyes bugged out of her head and I instinctively clamped a hand over her mouth before she could make a sound. I removed my hand and stroked Tony's chest with a finger.
"I'm almost done getting ready baby, I just didn't want you to think I'd forgotten about you."
"Hurry up sweetie", he replied, "this cock is ready to make you scream."
I rolled my eyes as I looked at Angelique - she was confused. Why was the neighbour she liked about the fuck the neighbour she hated?
I grabbed her and silently led her back upstairs. We went to my closet, where I knew we could speak at a normal volume.
"Angelique - this guy is an asshole. I decided since you felt powerless to do anything about it, I would help you. We're going to make him pay for everything he's done."
Angelique shook her head. She hadn't been in a situation like this. She was probably the type who had never watched porn or had sex with the lights on. Tonight was making her head spin. I put my hands on her shoulders and squeezed lightly.
"Sweetie, just follow my lead. Nobody is having sex with this guy. If you're uncomfortable at any time, you'll walk out."

She seemed to relax.
"Now get undressed. We need to make you look the part. And for the rest of the evening, call me Mistress Mindy."
20 minutes later, we crept downstairs. Tony was flaccid, but at my first touch of his face, his cock twitched. "Did you miss me baby?" I asked.
He smirked and replied "I figured you wanted to take your time and make sure you looked good for daddy."
God I hated this man.
I opened a drawer in the nearby chest and pulled out a flogger. With no warning at all, I smacked it lightly against his left nipple. He yelped. "What the hell?"
I removed his blindfold. He squinted, then adjusted to the sight before him.
I was wearing my favorite black leather corset, pushing my breasts impossibly to just beneath my chin. A black skirt and high heels completed my outfit.
Next to me, Angelique stood wearing a black leather bra, showcasing her gorgeous breasts and midriff, black leather pants and knee-high black leather boots. She had a bit of a cat woman thing going. I liked it a lot. Only problem was she still looked shy and inhibited. I really needed to change that.
Tony struggled against his restraints, to no avail.
"What the fuck is going on here? Why is that bitch here?"
I smacked his right nipple with the flogger. He tensed in pain.
"You will only speak when we address you, or you will be subjected to pain. Your nipples are far from the most painful area we can affect. Do you understand?"
"Fuck you. Let me out of here you fucking bimbo."
Smack. Right across his balls. His scream filled the room. Angelique bit her lip and looked away.
"Do you understand?"
He nodded, the anger filling his eyes.
I reached into my purse and pulled out my phone. I snapped a couple of pictures as he struggled again.
"Now, assuming you're not a fan of the world seeing your average appendage or how easily you've been placed in a very compromising position, I have ensured that you will not be involving any police or other methods of revenge. Am I right?"
Defeated, he nodded.
"You have been a very bad neighbour to Angelique here." I stood behind her and caressed her breast through the leather bra. She gasped and leaned back a bit.
"Why do you disrespect her when she asks you to behave like a courteous neighbour?"
He had no reply. He pursed his lips and looked away. I smacked him across his left inner thigh.
"I asked you a question - you will answer it."
He looked Angelique in the eye and replied. "I wanted her when she moved in, she rejected me, it's pretty simple."
"And you believe that as a man, it's your right to have any woman you want? She has no choice in the matter, and if she rejects you, she becomes an enemy?" I yelled. This man was bringing out the feminist in me. "What makes you believe you're so entitled?"
Again he was silent.
SMACK.
Angelique had grabbed the flogger from me and hit him across the stomach.
"I believe Mistress Mindy asked you a question!", she exclaimed. I smiled at her and she gave me a different smile than I'd seen from her.
"I have every right to pursue any woman I want", he replied.
"And we have every right to reject you. And that doesn't mean you get to hold that against us. You get rejected, you move on. Try having some respect for people", I replied.
His silence implied that he had no response more than that he was feeling any sense of guilt.
"Angelique, why don't you keep working his chest with the flogger, and occasionally pinch each of his nipples with a slight twist."
"Yes Mistress."
She worked over his chest and nipples while I attached the TENS unit to his balls and his shaft. He seemed too pre-occupied with the work she was doing to notice what I was doing. The twists of his nipples weren't slight at all.
"Tony, when your neighbour here asked you to stop playing loud music, what have you responded in the past?" I asked.
"I told her to fuck off."
I looked at Angelique and she shook her head. I turned the TENS unit to the lowest pulse setting for 5 seconds. Tony let out an almost-girlish scream. I turned it off.
"Let's try being completely accurate. And remember, she's standing right there."
Tony paused before opening his mouth. "I told her that if she'd let me come on her tits, I'd turn it off."
A slight tilt of her head, but she still wasn't nodding.
I turned the unit on low again, switching from pulse to steady for 5 seconds. His scream was even higher.
"Ok, I said I'd turn it off for an hour, or for however long we fucked before I came - whichever lasted longer!"
She looked down ashamed and nodded slightly.
I turned the unit on for 10 seconds. His scream again filling the room.
"And what should you have said to her when she asked you to turn the music off?"
He paused to think, knowing he didn't want his penis flooded with electricity again.
"I should have apologized for disturbing her and turned it off."
Angelique's face lit up as she looked at me. I reached to the drawer and pulled out my magic wand, turned it on low, and rubbed it lightly along his cock. He moaned, and within a minute, his cock was rock hard. I turned off the magic wand.
"Angelique, now you ask him something."
She contemplated for a moment and then looked at him from above with both of his nipples between her fingers. "Tony, when I asked you not to mow the lawn so early, what did you say to me?"
"I told you that if you didn't want me to do it so early, you should come do it for me."
She shook her head and I reached to turn on the TENS, but Tony yelled "NO! NO! Wait… No, I said you should put on some skanky whore outfit so I could enjoy watching your ass while you mowed my lawn whenever you wanted."
She patted his nipples and nodded to me, so I put the magic wand on a slightly higher setting and worked his cock again. He was thrusting at it. Just as I saw the look in his eyes that said he was close, I turned it off. He let out a half moan, half yell in protest, but became silent quickly.
"Tony, you are already learning. We are very pleased. But you still need to pay for your past indiscretions. However, we are also going to train you to behave better, like a more courteous neighbour. Eventually, you may even learn how to treat women properly. Would you like that?"
"Fuck you Mindy! Fuck both of you! Who do you think you are?"
I was not expecting that. I didn't realize Tony had this extra bit of fight in him. I smiled.
I reached into the drawer and pulled out "Frank and Beans", my two favorite strap-on dildos. Frank is black, 8 inches, thick, veiny and just wonderfully intimidating. Beans is Frank's little sidekick. He's white, about 5 inches, a little thinner and a perfect introductory dildo for anal. I wasn't yet sure where each of them were going.
I motioned for Angelique to come to me. She did, and looked up at me, still slightly timidly. I placed Beans around her and strapped it in on top of her pants. Tony's eyes widened in fear. From behind Angelique, I reached around and stroked her breasts over the bra as I did before, with her leaning back into me again and closing her eyes in bliss. My other hand started stroking Beans. For my own enjoyment, I pushed him back into her on the downstroke to give her a little thrill. She was writing and moaning as she pushed against me. The desired affect was there - Tony's cock was still hard.
"Tony, you have a chance to make nice. Do you want to make nice? Trust me, you'll want to say yes."
"And what if I say no?"
"Then we're going to switch Angelique from Beans to Frank", I replied, reaching for and holding up the black monster.
He muttered to himself.
I walked over and turned the TENS to medium. He shook violently as I turned it off.
"Do you want to make nice Tony?"
"Yes, I want to make nice."
"Convince me Tony."
I reached for the magic wand and held it up.
"I'm so sorry for everything. I want to make nice, with both of you."
"Good boy", I replied. I ordered Angelique to untie his ankles. She did. I mounted the table so my ass was in front of his face (my skirt still covering it) and my thighs were on either side of his chest as I faced his feet. He tried to lean his head up towards me, but he failed.
"Angelique…"
"Yes Mistress Mindy?" she replied.
"Push his legs up here so I can grab his ankles."
She did, as he began to protest, but I place my weight on his chest and briefly smothered his face with my ass so he couldn't speak or breathe. I raised myself and had his ankles in my hands, exposing his asshole.
"Angelique, mount the table and make nice with Tony."
Tony protested immediately. "Please, both of you… no… not that!"
"I wonder how many women he's heard that from", Angelique pondered aloud. "Mistress Mindy, is there lube?"
"I'm sure he's done it with just spit", I replied. "Let's see how he likes it." I leaned forward and lobbed spit towards his asshole, while Angelique did the same. We were both on target, our eyes locked the whole time. She leaned forward and kissed my lips, but I leaned back and mouthed "later" to her.
She pushed the tip of Beans to Tony's anus and slowly eased forward. I covered his mouth again and he screamed into my ass as Beans penetrated his.
Angelique worked up a pretty good rhythm, and soon Tony seemed to adjust. His cock, again, was rock hard.
"Hand me the magic wand", I told her. Without missing a thrust, she reached for and handed the Hitachi to me, then she held his ankles up, although he seemed to be holding his legs up mostly on his own now.
"Tony, you want to come, don't you?"
"I am so close!" he exclaimed.
"How do you feel about our training now Tony? Do you want us to train you to behave better every week?"
"Yes", he replied.
I turned on the magic wand to its highest setting and placed in on the underside of the tip of his cock. He moaned. I took it away.
"I need to believe you want to be trained Tony. Angelique, maybe Tony needs it to be squeezed out of him a little…"
She reached down with her right hand and grasped his testicles as she fucked his ass.
"Oh my god! Yes, please, both of you - I need you to train me. Please!"
I turned on the wand again, but this time, I stroked it down his cock and let it contact Angelique beneath the strap on. Even through the leather pants, she was electric and moaned. She drove the dildo deep into Tony's ass and kept it there to maintain the contact I was allowing her with the device.
I pulled it away, back towards the tip of Tony's cock, and she gave me a look of disappointment. I winked at her and she resumed her fucking. I turned it to the low setting and barely grazed his penis as I asked him once more:
"Tony, do you swear you want us to train you every week?"
"Please mistresses… every week, train me, use me, I'll do anything you both want! Please!"
I turned the device to high and pushed it into his cock tip.
"I'm going to come!" he yelled frantically.
I dismounted, keeping the hitachi on his cock, and placed one hand on Angelique's beautifully round ass, pushing her forward and holding her in place so Beans was deep inside Tony's ass. He exploded, with stream after stream of come covering his stomach and chest. I hadn't noticed at first, but the first stream actually hit him right on the mouth and chin.
I grabbed my phone and took another picture, as this was even better than the first ones - somewhat for the security, and somewhat for our amusement.
"Angelique, untie his wrists."
She knelt and did as I ordered as I stroked her head from above like she was a puppy.
Tony rubbed his wrists as leaned up on his elbows, looking much more timid than usual.
"So… what now?" he asked calmly.
I answered as I unstrapped Beans from Angelique. "You pick up your clothes and you walk home as you are right now. You are not to put on any of these clothes until you are inside your house… unless you choose not to. And we will see you here next weekend at 8:00 to continue your training."
He was about to stand, when Angelique interrupted.
"Tony, have you learned nothing? Mistress Mindy doesn't want your come dripping on the floor. Rub it into yourself so you don't make a mess!"
Tony reluctantly rubbed his come into his skin, avoiding leaving any globs that might drip. Then he had to go pick up his clothes, with his now come-covered hands. Maybe Angelique had a little more hidden within her than I realized.
Tony grabbed his clothes and followed us upstairs. I opened the door and he scampered across the driveway towards his house.
I closed the door and turned towards Angelique. She was on her knees looking up at me.
"I think I need some training too Mistress Mindy."