Hello kinky friends! I thought I'd post a much overdue update! After some prolonged and much needed vacation time, I'm back in the saddle (so to speak) and enjoying play again! Feel free to reach out to schedule a session. If you've contacted me in the past few months and haven't received a response, my sincerest apologies – I'd be happy to hear from you again and set up a time to meet and play!
Today's blog focuses on one of my true passions. It's one I understand is rarely offered by pro Dommes, and similarly not often requested by subs – but I have finally found a devoted toy who is willing to endure my more sadistic treatment, purely for the pleasure of seeing me happy! Not a born masochist, this sub has been dutifully pushing his limits since meeting me last year, and has found himself willing and eager to go above and beyond to prove his devotion to his Goddess.
I started out slow, putting on some soft music, lighting some candles, and stripping him down slowly. Sometimes I am cold and clinical when I'm doing needle play, but as this was his first time, I wanted to make it a bit more special. I took his hand, leading him gently but firmly over to the massage table. He seemed relaxed enough – he's always grinning in my presence – but there was a quiet tension in the air. Perhaps anticipation? I knew that my slave had been gearing up for this promised treat all week. Never the kind to back out, I didn't anticipate hearing his safeword tonight, no matter how intense our session got.
I started simply enough, stroking his chest gently and tweaking his nipples, earning an appreciative groan every time I brushed or squeezed the sensitive nubs. This was where I would focus my attention – at least at first. Keeping my hand moving, running my fingers through his chest hair, I pulled a blindfold over his head with my other hand, tugging it securely into place and obscuring his vision completely. Then, moving quickly, I reached down and slapped his erect cock, hearing a quick, sharp intake of breath as he opened his eyes to discover he could no longer see. I laughed softly, amused to see him twitch and yet still reach for my touch.
I kept up my gentle attack on his chest, caressing his skin and softly twisting his nipples from time to time, increasing my intensity to match his moans. I could see his cock pulsing, straining to reach my soft hands. I could tell he was more than ready for the next step.
He gasped as he felt the cold sting of the rubbing alcohol just beside his left nipple. The cool air tingled where I'd wiped him clean. I continued until his entire chest had been properly prepared. I think the reality of what was next began to hit him then, and he stirred uneasily beneath my steady hands. I soothed him, stoking his face gently as I began to talk dirty to him, telling him stories of what I would let him do if he took these needles like a good little slut.
By the time he heard the snap of the nitrile gloves on my wrists, he was practically levitating in anticipation. Ever the thorough Domme, I re-cleaned his chest, enjoying his soft whimpers. He knew better than to beg me for anything – he was smart enough to trust my pacing, no matter how badly he wanted me to do more. This was our dance – me pulling back, always pushing and teasing, tormenting him until he was silently screaming for me to give him more than he ever thought he could handle.
At long last, it was time for the first needle. I decided to start out right near his ultra sensitive nipples. Reaching out to grasp his right nub, I twisted it between my fingers lovingly, teasing it to a firm point and flicking it for emphasis, enjoying the resulting squirm. I moved up half an inch, pinching the area just above to raise a thin section of skin. Holding tightly, I moved quickly, piercing the needle through one side and out the other. A gasp followed – not unsurprisingly, the kiss of the needle shot a spike of pain through his chest. What was surprising was his reaction.
His cock jumped – not in fear, but in excitement. Twitching and straining, his erect dick pointed straight up at me, daring me to do it again. I could tell he was surprised by his body's reaction to the pain. He let out a low, soft hiss, and reached his hand out to me for reassurance. I laughed delightedly. Oh, this was just too good to be true. While not a pain slut in the true sense of the term, he was definitely reacting to the baffling mix of pleasure and exquisite torment.
Once I had 20 needles evenly distributed across his chest, clustered around his nipples in an even pattern, he was really losing his mind. His groin was pulsing rhythmically upwards – he was basically humping the air. I had never had someone ascend into subspace so quickly! He was totally lost to the pain of the needles and the gratification of my touch. I knew he was ready and eager for the next step.
I turned the music up, swaying gently as I ran my sharp nails up and down his inner thighs. He moaned in appreciation, tossing his head back and rising to meet my fingertips, seeking more pressure, more contact, more of me. I grinned as I lazily stroked my gloved hands over his smooth balls, stretching the shaved skin and admiring my canvas. This was going to be the true test – either he would snap out of subspace and I would calm him down and transition to a gentler form of play, or he would rise to the occasion and cement his place in history as one of my all-time favourite subs.
So which was it? Well, see for yourself… and admire what a cock can do for a Mistress when you truly crave her touch.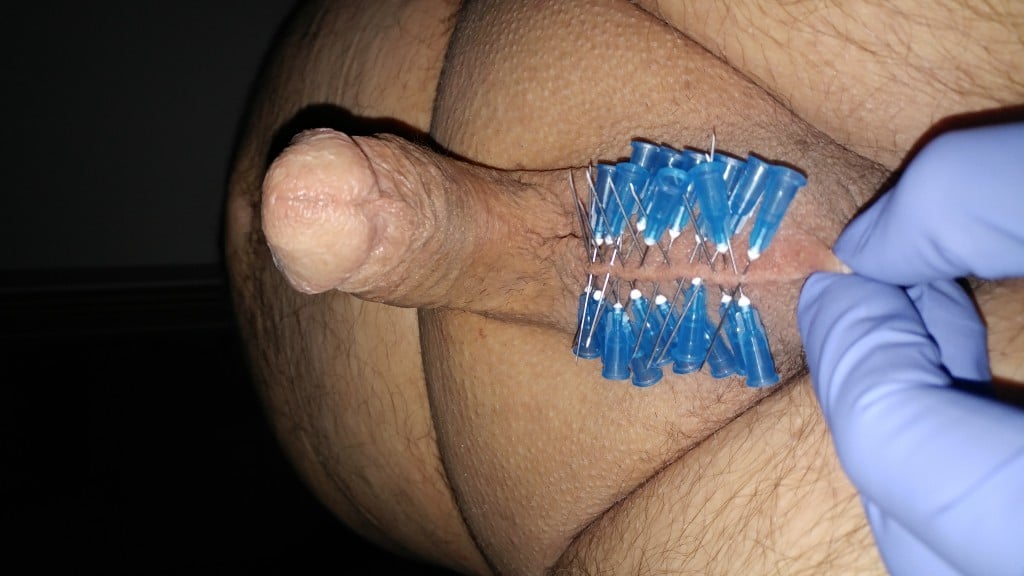 If you would like a session involving needle play, contact me! If you want to learn about some other ways I love to have fun, visit https://www.torontodomme.com/toronto-dominatrix-sessions.html.