Hello kinky friends!
No, I have not forgotten how to spell – today's blog touches on and combines a few concepts.
Let's start with automation – how many of you have recruited Google or Alexa to make your life easier? We have truly taken massive strides technologically – making tasks simpler, using voice commands to perform simple tasks like turning off lights, buying things online (like you can for me right now from my Amazon Wishlist) and so much more.
As many of you know, I LOVE when my subbies are dedicated to foot worship. Men and women with a foot fetish fit in very well in my life, and my dungeon.
One very generous and thoughtful sub decided to gift me a foot massager.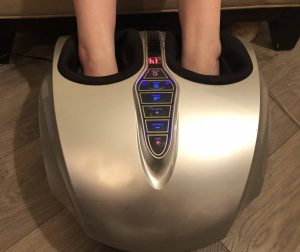 The note read: "Mistress Mindy, I hope your feet are always pampered as they deserve."
Now, I first want to say to that lovely sub, that receiving gifts always makes me happy, and I couldn't appreciate his generosity any more. Men like HIM are the ideal sub, and I love developing long lasting relationships with people who understand that. But I digress!
I couldn't wait to try the foot massager, and rest assured, I did. After a long, hot shower, wearing nothing but my favourite silk robe, I took my tablet over to my lounging chair, put my feet in the massager, and let it work its automatic magic on my feet. And guess what?
Not for me.
As my feet were being kneaded by this very well-engineered device, I realized that as great as technology can be, there are some aspects of life that simply cannot be replaced. Foot massage and foot worship in general should and MUST be satisfied with the tenderness of human touch.
Robotic gears cycling in patterns can in no way replace the gaze of a loving sub, looking up with shallow breaths, asking permission for every touch, kissing and making my feet feel loved.
The beauty of being an in demand Toronto Dominatrix is my growing list of willing foot worshippers who are at my beck and call. If I feel like having my feet massaged and kissed, I can send a text and almost instantly receive the tender care I so often demand and enjoy.
And unlike my foot massaging machine, my human foot massagers can perform multiple tasks.
Google may be able to turn on and off the lights, but my slave Goodwin can change the lightbulbs.
Alexa may be able to order more cleaning supplies, but my slave Alex will actually clean my kitchen.
If that isn't true home automation, I don't know what is.
Yes, technology has come a long way; but some things can and simply never should be replaced.
If you would like to become a part of Mistress Mindy's home automation, contact me to book an introductory session.